Thank you for all the well wishes yesterday! I really appreciate it. As payment, Rio doing what we like to call "disco sleep":
"Ahh, do the hustlezzzzz…
Aside from the plague, it's been a big week chez Diana. I'm an aunt — yay! I'm also a fake aunt — yay! Rio lost one of her canines and got three new big-dog teeth. (They're ENORMOUS. Like giant, craggy icebergs bursting through her gums.) My Rampant ARCs are going out into the world (my mother in law has already read hers and reported back to me), and I just saw a copy of my complete cover for Tap & Gown.
And yes, I did hear about the fabulous Zombies vs. Unicorns anthology that Holly Black and Justine Larbalestier are doing. I am so excited! I think it's going to be incredible, and I'm really looking forward to seeing what the collection has to say about that awesome beast, the unicorn. To set the record straight, I'm not the slightest bit appalled by the anti-unicorn sentiment going around the internet these days. A development such as this:
(This is Rebecca. Justine met her in Texas.)
is entirely appropriate and even prudent behavior. Say NO to unicorns, people! Unicorns are DANGEROUS. Like drugs! And not wearing your seatbelt. If you see a unicorn, back carefully in the other direction! (Do not run. The unicorn can catch you.) Climb a tree. Get away from open windows. Hide yourself in the middle of a crowd of more tender, delicious-looking people. If you don't, this might be what happens to you: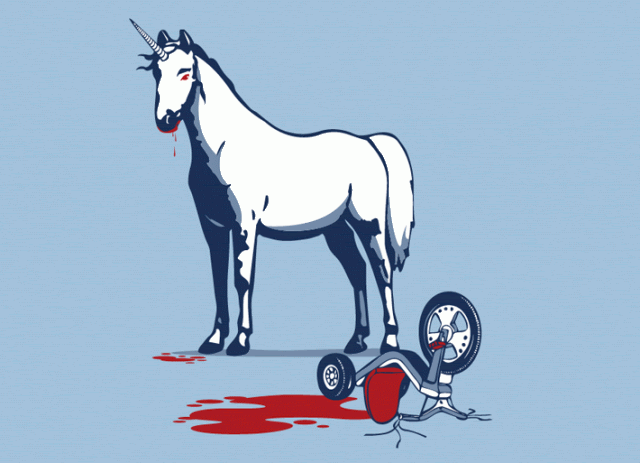 I applaud both Rebecca and Justine for pointing out these important safety tips.
Let's see, what else? Oh, I bought a stack of books — doing my part to save the world, you know. I also read some, being stuck in bed with little more than a warm sleepy puppy and a box of tissues to keep me company. I read THE HUNGER GAMES (believe the hype — it's fabulous!) and Mari Mancusi's newest, GAMER GIRL. I loved them both, though they are nothing alike. THE HUNGER GAMES was a riveting, harsh, horrific dystopian adventure, and GAMER GIRL was an adorable, light contemporary romance. Having spent several hours talking video games with Marianne, I was unsurprised to find her spot-on account of gaming, but I was impressed so much by her ability to turn the premise into an engaging real life love story. It's like The Shop Around the Corner, but with MMORPGs. So cute. I think it's my favorite book of hers and I'm wondering when Disney is going to snap up those rights. (There's also a lot of manga talk in the story, but I know more about WOW than I do about manga or anime, so…)
Also, she makes fun of unicorns. Tsk, tsk, Marianne…